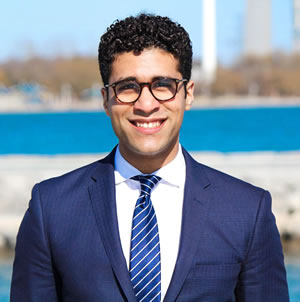 Musa Mansuar
Votes: 2,526
Running for:
Regional Councillor, Ward 1
Contact Details:

947 Oklahoma Drive Pickering
905-903-5015
Visit Web Site
Profile
I'm proud to live in West Shore and call Ward 1 my home. I've grown up in Pickering, and it's the community I'm determined to strengthen and improve.
For the past few years, I've worked as a Legislative Aide to MP Jennifer O'Connell. That meant helping community members with the issues they're facing, supporting organizations navigate the federal bureaucracy and helping push for support that will build, strengthen and grow our community.
I know what it takes to achieve results for our City and Ward 1.
In 2014, I created Pickering Votes, an awareness initiative dedicated to increasing voter turnout and engaging citizens in the political process during the previous municipal election.
It was after founding Pickering Votes that I developed a passion for local issues and grassroots community organizing. It was also when I grasped the impact municipal representation can have on the lives of my neighbours and fellow community members. I have a Bachelors Degree in Political Science from the University of Guelph, and a Masters Degree in International Relations from the University of London, Queen Mary College.
Pickering needs Fresh Ideas and New Leadership. As your Regional Councillor, that's exactly what I will bring to the table.
---
Comments
Our site is a community friendly portal. We ask everyone to treat other members with dignity and respect. We expect that you use socially acceptable language within your posts. Remember, you are conversing with your neighbours. Anyone not following these simple guidelines will have their posts removed and potentially banned from participating.
Thank you,
AjaxPickering.ca Community Managers