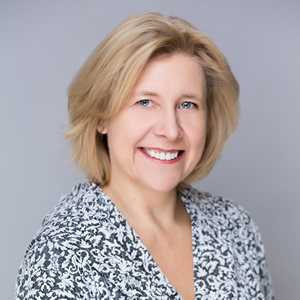 Anna-Karyna Ruszkowski
Votes: 60
Running for:
French Language School Board (Conseil scolaire Viamonde) Trustee,
Contact Details:

23 Ashall Blvd East York
416-690-2246
Visit Web Site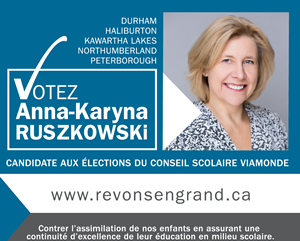 Profile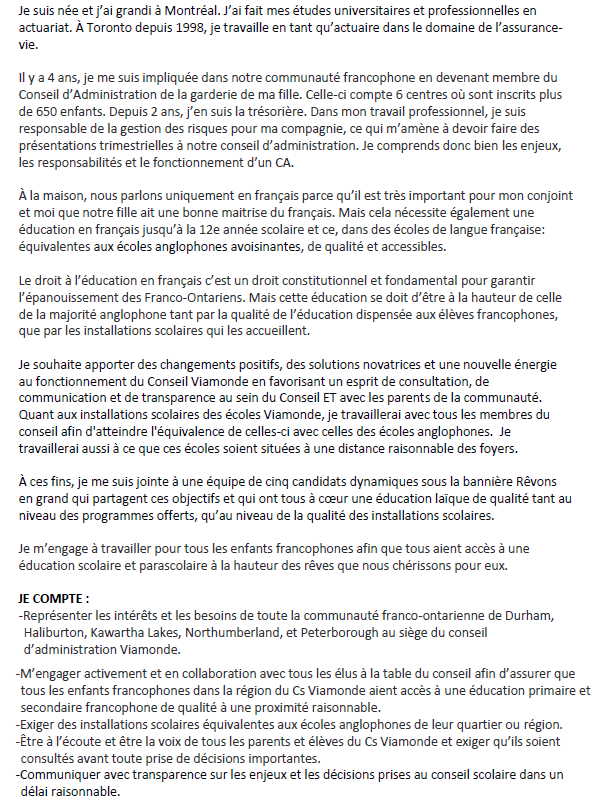 I was born and raised in Montreal. I obtained my actuarial degree and professional accreditation as a Fellow of the Society of Actuaries and as a Fellow of the Canadian Institute of Actuaries. I have lived in Toronto since 1998 and work as an actuary in the life insurance industry.
Four years ago, I became active in my francophone community by joining the board of directors for my daughter's daycare, which has 6 locations and serves more than 650 children. For the last two years, I have served as their treasurer. In my professional work, I head the risk management department for my company. In this role, I am accountable to my company's board of directors to which I present on a quarterly basis. My experience has provided me a working knowledge of the mandates, the responsibilities and the functioning of administrative boards.
At home, we only speak French as it is important to us that our daughter is fluent in French. This requires that she also receive a French education all the way through to grade 12 in schools that provide a quality education, are equivalent in its amenities to the surrounding English language schools and are within a reasonable distance of our neighbourhood.
The right to a French education is a constitutional one and it is essential if Franco-Ontarians are to thrive. However French-language education should not come at a cost and should be equivalent to English language-schools with respect to the quality of its programs, infrastructure and amenities.
I will endeavour to effect positive change, implement innovative solutions and bring renewed energy to the school board's administration by instilling a sense of consultation, clear communication and transparency not only at the heart of the board but also with parents and the community. As for school infrastructures and amenities, I will work together with all board members to make sure that our schools are equivalent to those of our English schools and that they be located at reasonable travel distances from children's homes.
To this end, I have joined a team of 5 candidates who share the same vision and will advocate for our children's constitutional right to a quality French public education and equivalent school infrastructures and amenities.
I am committed to working for all francophone children so that they might have access to quality French education and the extracurricular programs that they deserve.
I WILL : - Represent the interests and needs of the francophone communities of Durham, Haliburton, Kawartha Lakes, Northumberland and Peterborough on the Viamonde school board of directors.
- Actively engage and collaborate with all the trustees to ensure that all francophone children in Viamonde's territory have access to quality French primary and secondary education within a reasonable travel distance from home.
- Insist that school amenities be equivalent to those of English schools of the region or neighbourhood.
- Listen to and represent, all Viamonde parents and students, insist that they be consulted before all important decisions are made.
- Communicate with transparency the issues and decisions of the school board within a reasonable timeframe.
---
Comments
Our site is a community friendly portal. We ask everyone to treat other members with dignity and respect. We expect that you use socially acceptable language within your posts. Remember, you are conversing with your neighbours. Anyone not following these simple guidelines will have their posts removed and potentially banned from participating.
Thank you,
AjaxPickering.ca Community Managers
COUNTDOWN TO ELECTION POLLS CLOSING
Polls Offically Closed