Shaheen Butt
- INCUMBENT

Votes: 3,115
Running for:
City Councillor, Ward 3
Contact Details:

983 Grafton Court Pickering
416-402-6594
Visit Web Site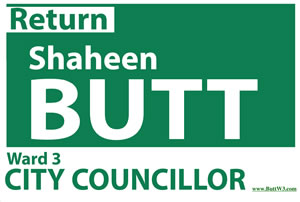 Profile
I'm Councillor Shaheen Butt and I need you to bring me back as your voice on council for Ward 3.
I Get Things Done!
Over the last two years on council I fought to keep taxes low - we had the lowest increase in 18 years! I plan to hold the line on property taxes and keep life affordable for families in Pickering.
During my time on council, we had a record number of projects completed and upgrades done to the Pickering Museum Village, the Dr. Nelson F. Tomlinson Community Centre, Centennial Park and Tomlinson Park and many more.
We have made improvements to the roads and are still working on a number of areas around the city to make your drive smoother and safer.
I listen to you and look out for your best interests. We all want a healthier Pickering and that's why I will continually push for Green initiatives.
Business is booming in Pickering and we want to continue to welcome commercial taxes in order to bring tax relief to you. New business brings new job opportunities and a closer commute.
We are a city that cares about our young people and our seniors. My goal is to make sure and build on our physical and mental health programs AND make them affordable.
In October, there is a new system in place to vote either by phone or online. Make the right choice for Ward 3. Bring me back to council.
Vote Shaheen Butt...I Get Things Done!
---
Comments
Our site is a community friendly portal. We ask everyone to treat other members with dignity and respect. We expect that you use socially acceptable language within your posts. Remember, you are conversing with your neighbours. Anyone not following these simple guidelines will have their posts removed and potentially banned from participating.
Thank you,
AjaxPickering.ca Community Managers
COUNTDOWN TO ELECTION POLLS CLOSING
Polls Offically Closed